For decades, Every mattress we believe is a work of art.
Started as a humble local mattress refurbisher back in the 1970s, our metamorphosis into India's premier mattress brand has been a result of our relentless pursuit of perfection. Only Foam Home India Pvt Ltd combines Functional Design and Technological Innovation to craft seamless sleep experiences. Our journey has been humbling. The love story with manufacturing began only in mid 1990's, and since we have introduced revolutionary products in the mattress industry.
We have refined and modernized the industry by launching innovations such as High Density Foam, Memory Foam, Gel, Latex and our very own Globally Patented mattress technology, the Ergoshell. Our passion for fineness drives us every day to build beds that give you a comfortable experience every night.
30
+ Years Avg Staff Experience
2200
sq ft Display center
India's most Experienced mattress company.
That's why, for more than 40 years, Foam Home has dug out every innovation it can find to ensure that you get the most out of the time you spend sleeping. Whether it's technology from far off countries, or even closer home, we tap into every resource we can so that what you sleep on understands you. Foam Home has been refining the mattress industry in India to provide the most advanced sleep since 1977. Through our journey we have associated with several established global companies to develop high quality and extremely comfortable mattresses.
In a day and age where mattress shopping has become more confusing than ever, the experience of Foam Home comes to your rescue. With a complete in house facility, we research, develop, manufacture, package, market and deliver all under one roof.
At Foam Home, we only believe in making the kind of product that earns your respect.
Our latest plant located in Taloja, Mumbai is completely equipped with the latest machinery and processes that help us create the most scientific and sophisticated mattresses for you. Following European standards, our processes and materials are world-class.
At Foam Home, we are proud to have carried on our legacy of master craftsmanship and perfection in all our products, right from the time we made our humble beginnings as a single store, to this day, where we manufacture thousands of mattresses every month, in our large manufacturing plant in the outskirts of Mumbai.
Our founders at Foam Home have been obsessed with quality and providing attention to detail. Long before mattresses were given much importance as a household product, we made it our duty to research, innovate, and provide families with a never before experience. It is this attention to detail, and the spirit of excellence that we've translated into all our employees, whether they are at our retail store front-facing our customer, or are at the factory floor, researching and manufacturing the mattress
Foam Home India is a Family Run Business owned by the Bhanpurawala Family. Started by two brothers, Mr. Huseni Bhanpurawala and Mr. Aijaz Bhanpurawala the company is in its 2nd Generation of growth under the able hands of Mr. Ali Bhanpurawala and Ms. Sabina Bhanpurawala.
The company has a highly trained and experienced sales team with over 30 years of Industry experience making them highly reliable when it comes to helping you find the right sleep solution.
Mr. Huseni Bhanpurawala
It is his passion to make the world sleep comfortably. The main driving force at Foam Home, Mr. Huseni is responsible for Product Designing, Strategy, Technology and Innovations. He is also the patent holder for the Ergoshell Mattress Technology.
Email: husenibhanpurawala@gmail.com
Mr. Aijaz Bhanpurawala
He wont sleep till you do! Mr. Aijaz has been  an integral part of the company since its inception.He has a rich experience of 43 years into mattress retailing. The architect and Medical fraternity fondly call him 'The Mattress Doctor!'
Email : aijaz1@hotmail.com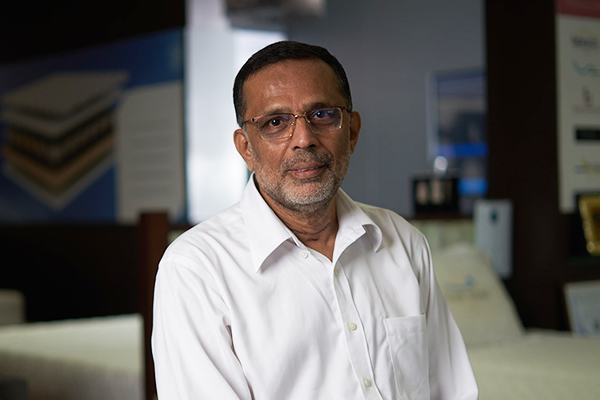 Mr. Huseni Kapadia
Mr. Kapadia has over 40 years of experience in dealing with Indias top architects and Interior designers.
Email : kapadia@foamhome.in
Mr. Ali Bhanpurawala
Mr. Ali is the man behind the machine. With 11 years of experience he is  responsible for production and operations. He ensures quality is never compromised.
Email : ali@foamhome.in
Ms. Sabina Bhanpurawala
Ms. Sabina is the CEO and face of the company. She has a 15 year experience in the Industry and is responsible for Marketing and Business Development.
Email : sabina@foamhome.in